A Piece of Silver - Buy the Book Online!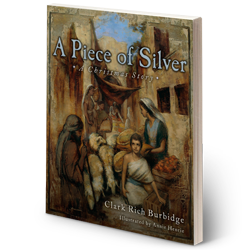 A Piece of Silver is a gripping story that gives an original and interesting perspective on the birth and death of Jesus. Excellent story telling coupled with engaging and dramatic illustrations will have readers, young and old, turning the pages until they reach the dramatic and promising ending. It is a story of victory that families will enjoy reading over and over again."
In a second quote she stated: "Wow, This is an amazing book—one of the best I have seen. The story is gripping and the illustrations are amazing."
—Crystal Bowman, best-selling children's author, speaker and editor
"Thank you for sending me your . . . story. I was really touched by A Piece of Silver. The story was masterful and the artwork beautiful . . . I believe this will touch a lot of people and bring the scriptures to life for them."
—Dale Merrill - successful father, husband and senior executive
"Just wanted to let you know that we've read your books to our children and they keep asking to read it again!
My ... son always wears his silver necklace ring."
—Kristina Clemens, Author "After Nathaniel"