A Piece of Silver - A Christmas and Easter Story Like No Other!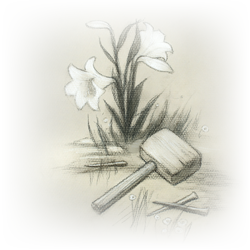 Recipient of the 2013 International Mom's Choice Gold Medal for the top Children's religious/spiritual picture book of the year.
"A Piece of Silver is a gripping story that gives an original and interesting perspective on the birth and death of Jesus. Excellent story telling coupled with engaging and dramatic illustrations will have readers, young and old, turning the pages until they reach the dramatic and promising ending. It is a story of victory that families will enjoy reading over and over again."
—Crystal Bowman, best-selling children's author
---
Two thousand years ago in Bethlehem, a young homeless boy named Daniel finds shelter in a stable and witnesses the birth of the Savior. Wanting to present the child with something, he gives the baby his only possession—a silver ring he wears on a piece of twine around his neck. But Daniel's life remains one of living on the fringe of society until, in his darkest and loneliest moment, he again meets the Savior.
This powerful story provides a unique perspective of the birth and death of Jesus through the eyes and heart of a desolate young man.
Infused with wonder and awe, this story is one of unconditional love and endless hope.
A story to touch the heart of anyone who has ever wondered about the value of a human soul, whether God was there, if miracles can happen and why there is always hope.

Share this touching story with your children and grandchildren; no matter their age it will be a story they will want to experience again and again.
Daniel is a homeless orphan, living in Bethlehem. After finding shelter in a stable his fitful sleep is interrupted as he witnesses the birth of the Savior of the world. Step into Daniel's strange and unforgiving world and experience the events of that night of all nights through the eyes and the feelings of this young boy. Life goes on and of course so does Daniel's. Draw near to Daniel again years later as he finds himself once more in the presence of Jesus, where his life-long prayers are answered.
Also, check out the Author's new book at www.giantsintheland.com, www.starpassagebook.com.